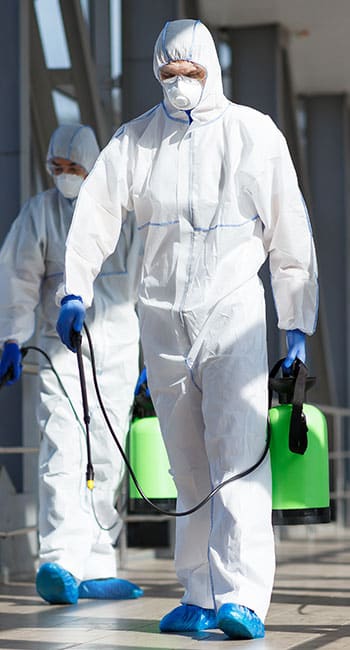 Coronavirus has quickly gained a reputation for being particularly insidious. It can survive on surfaces for up to 17 days and people infected by the virus don't show symptoms until approximately two weeks after infection, making it difficult to track and contain. This is why having a trusted professional disease and biohazard remediation company on your side is so important.
MyCleantastic adheres to all OSHA regulations, is certified by the IICRC (Institute of Inspection Cleaning & Restoration Certification) and strictly follows the most state-of-the-art procedures when it comes to disease cleanup and disinfection. Coronavirus (COVID-19) is still novel, so our Coronavirus Task Force continually consults with the Centers for Disease Control & Prevention (CDC) for up-to-date solutions and utilize CDC approved and EPA registered disinfectants. Based on our industry-leading expertise, Aftermath has been selected to partner with the US Government for their COVID-19 remediation needs.
DISINFECTING CORONAVIRUS
We use CDC approved and EPA registered industrial-strength disinfectants with a broad spectrum kill claim
All infected materials are cleaned, disinfected, and properly disposed of as biohazard waste
Fully encapsulated personal protective equipment (PPE) and full-face respirator masks are worn at all times by our certified cleanup technicians
We adhere to a stringent coronavirus demobilization process for our equipment, trucks and waste storage areas
Disease outbreak is an extremely serious situation and we understand that the health and safety of you, your family, and employees are on the line. Don't take any chances; call in the professionals. See our most recent post for additional frequently asked questions on disinfecting coronavirus in your place of business.
How long can Coronavirus Live on a Surface?
Metal (4 to 5 Days) – Door knob, Jewelry, Silverware
Wood (4 to 5 Days) – Furniture, Handrails, Doors
Plastics (2 to 3 Days) – Seats, Elevator Buttons, Bottles
Stainless Steel (2 to 3 Days) – Refrigerators, Sinks, Doors
Cardboard (1 to 2 Days) – Boxes, Packing Material
Cloth (1 to 2 Days) – Furniture, Bedding, Towels
Glass (2 to 3 Days) – Drinkware, Cellphone Screens
Paper Money (3 to 4 Days) – Dollar Bill, Check
Click here for the most updated CDC Guidelines for Cleaning and Disinfection for Community Facilities.
Click here for the most updated New York State Department of Health Assessment.